This bundle is all about you helping you become a highly paid speaker. I'm talking about getting paid thousands of dollars to speak.
It consists of four of my most popular courses designed for speakers.
This bundle has over $1200 worth of products inside!
See the unbelievable price at the bottom of the page!
Bundle Contents
Showcase courses and coaching in your Bundle.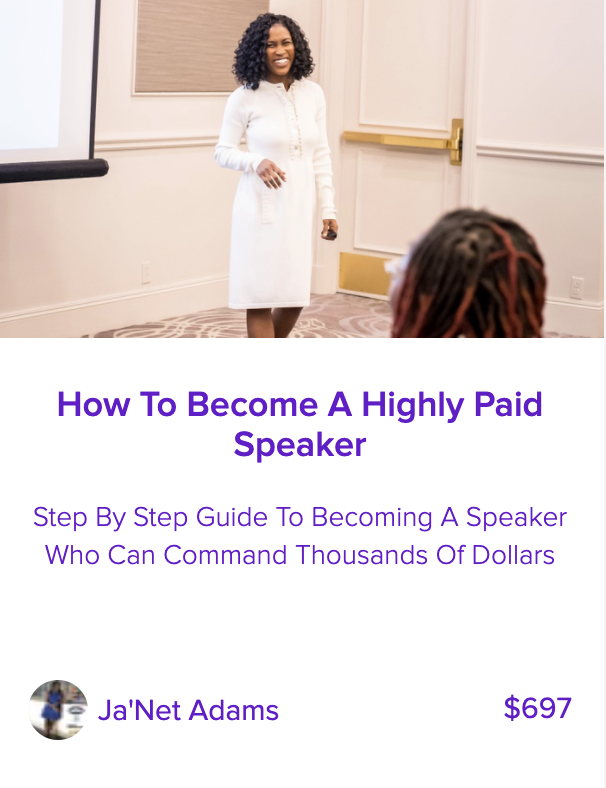 How To Become A Highly Paid Speaker
A $10,000 month for five hours of work
Reaching tens of thousands of people a year
Helping people change their lives for the better
I have experienced all three, multiple times, but helping people change their lives has been the most rewarding. Anyone can be a speaker, but not everyone can be a PAID SPEAKER.
This course will help you whether you are trying to go full-time as a speaker or if you are a speaker already and you are not making the amount of money that you would like to make.
When You Complete This Course You Will Be Able To:
Find your ideal client that will be willing to pay you to speak
Effectively pitch to potential clients (You will get my actual email verbiage that I send to prospects)
How to follow up effectively and get the right people on the phone (People who write checks)
How to use social media effectively so that speaking engagements come to you
How to price your speaking fees and demand your value
MUCH MUCH MORE!
Each course walks you through the different steps it takes to build a successful speaking business where you become an in demand professional speaker who is paid thousands of dollars for each speech.
After each video course you will have "key take-aways" and steps to implement in your business. This course is about TAKING ACTION!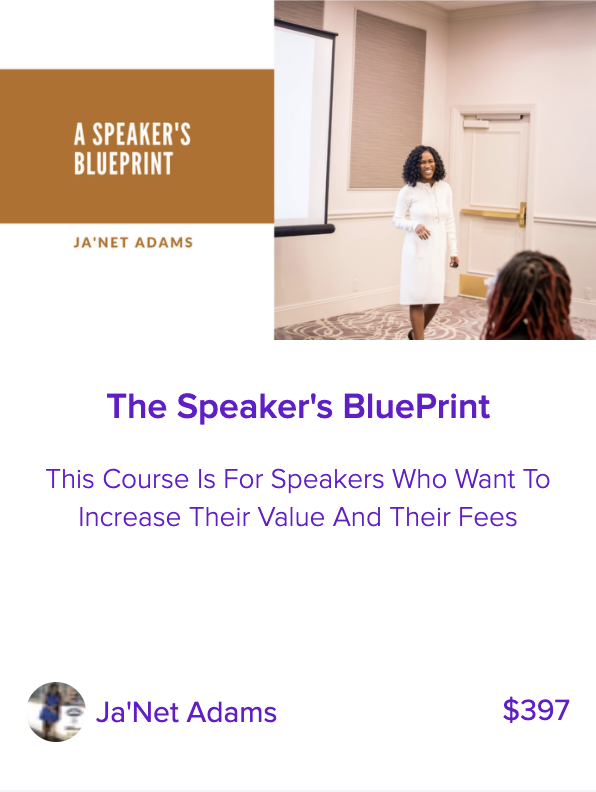 There is nothing like traveling the world and sharing your story! Being a speaker is awesome, but it is not easy to become one that gets paid top dollar.
That is why I created "The Speaker's BluePrint Bundle!" There are thousands of speakers around the world, but not many speak full-time. Not many use speaking as their full time source of income.
"The Speaker's BluePrint" consists of eight videos that will show you:
1. HOW TO GET ON THE NEWS
2. HOW TO SELL YOUR BOOKS IN BULK
3. HOW TO NEGOTIATE YOUR SPEAKING FEES
4. 3 ITEMS YOU NEED IN PLACE AS A SPEAKER
5. HOW TO NETWORK AS A SPEAKER
6. HOW TO FIND CONFERENCES TO SPEAK AT
7. HOW TO WORK A CONFERENCE AND LEAVE WITH SPEAKING ENGAGEMENTS
8. HOW TO GET SPEAKING ENGAGEMENTS FROM LINKEDIN
9. SPEAKER'S BLUEPRINT PRIVATE WEBINAR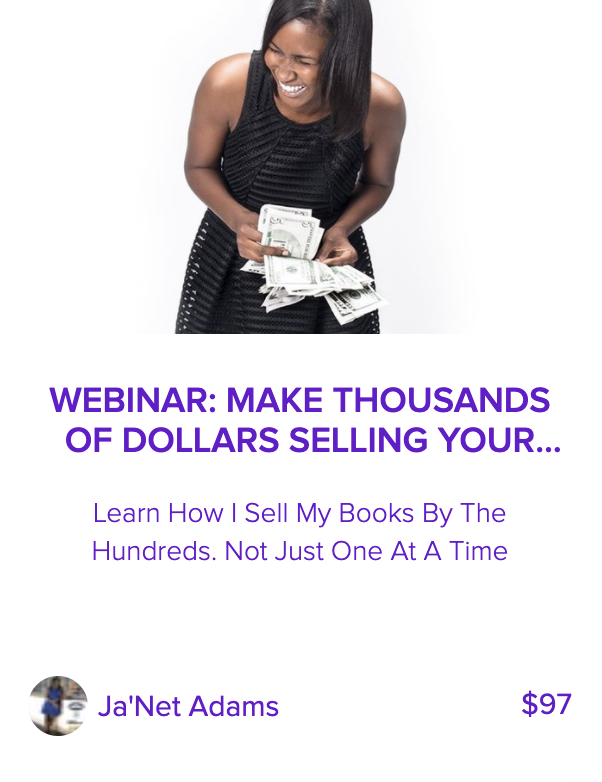 Webinar: Make Thousands Of Dollars Selling Your Book
Neither one of my books are "best sellers", but I have sold over 20,000 books! 
In fact recently sold 500 books in 3 days! When you write a book your goal should be to make money. 
So many people write books, but the sales are not there.
They sell one book here, one book there, but never get to the point of selling hundreds or thousands of books.
That is why I created this webinar. I am going to show you how I sell both of my books in bulk. How I sell 50, 200, 400 books at a time!
If you are tired of selling your book one copy at a time then make sure you get this course! 
What you can expect to learn in the webinar:
HOW TO FIND YOUR TARGET MARKET FOR BULK SALES
HOW TO FIND THE DECISION MAKER
WHAT YOUR BOOK PROPOSAL SHOULD LOOK LIKE
HOW TO PITCH EFFECTIVELY IN ORDER TO LAND BULK BOOK SALES
HOW TO TURN YOUR BOOK INTO AN ADDITIONAL REVENUE STREAM
HOW TO OVERCOME OBJECTIONS IN ORDER TO GET TO A "YES!"
HOW TO POSITION YOUR BOOK AS A SOLUTION
- MUCH MORE!!!!!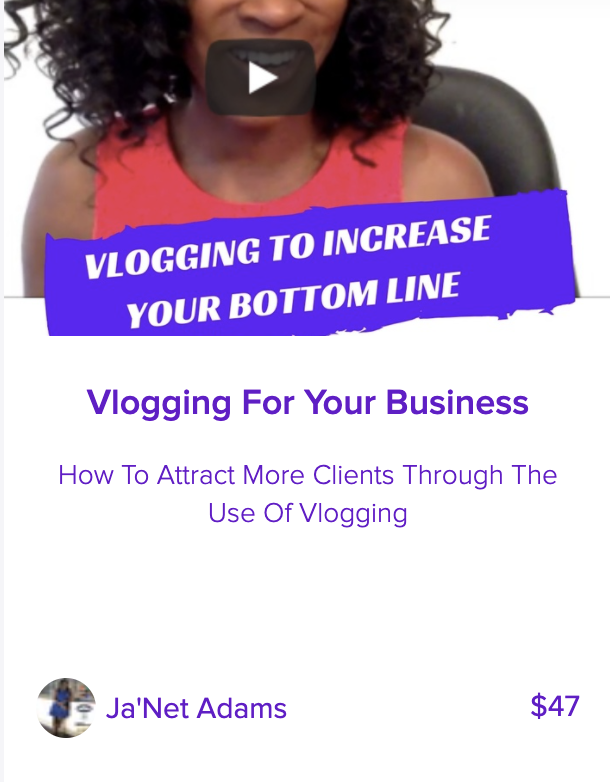 Vlogging For Your Business
How To Use Vlogging To Increase Sales:
If your business is not using video you are missing out on sales from around the world! This webinar will show you how to use video on the different social media platforms.
Also what equipment to use for video and other strategies that will help you stand out from competition whether you sell goods or services
When the webinar is complete you will know which platforms to be on and how to sell through video.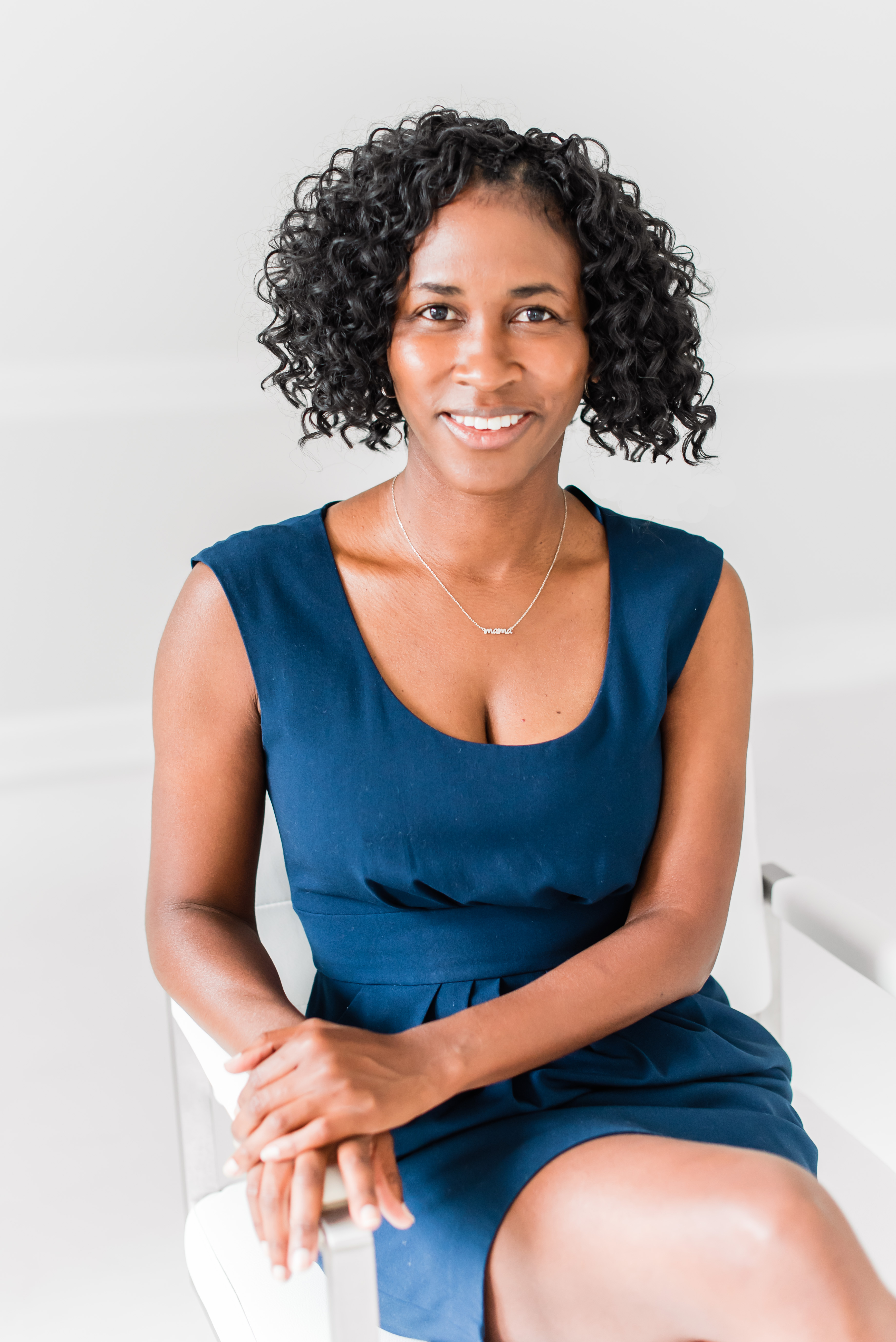 I have been speaking for over tens years now. I share with people all over the world how I paid off $50,000 of debt in two years and get paid thousands of dollars to do it!
My goal is to help other aspiring speakers take their speaking business to the next level. That next level is not only to speak full time, but also to grow your influence through media and a powerful online presence.
Frequently Asked Questions
Can I get a refund if I'm unhappy with my purchase?
If you are unsatisfied with your bundle, reach out to us to see if your purchase is eligible for a refund within 30 days.
Coaching is not included in this bundle